North Las Vegas authorities block off parking lot of convenience store where a fatal robbery occurred on Sept. 16, 2017.( Cherney Amhara/FOX5 ).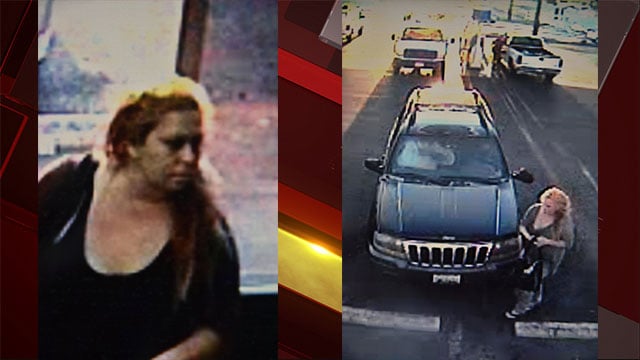 NLVPD released these monitoring
stills of a female who ran over a bystander in a AM/PM parking lot on the 300 block of West
Lake Mead Boulevard near Losee Road( NLVPD/ FOX5). NORTH LAS VEGAS, NV (FOX5)-. Cops are examining a lethal burglary in North Las Vegas Saturday early morning. The North Las Vegas Authorities Department reported a break-in took place at an AM/PM corner store located in the 300 block of West Lake Mead Boulevard, near Losee Road, at about 7 a.m.
NLVPD Officer Eric Leavitt stated a female took several items from the store and ran over a person who was attempting to avoid her from leaving the scene in her automobile.
The Good Samaritan was critically injured after being struck by the suspect's automobile and later passed away at the health center, inning accordance with police.
The robber got away the area in a dark-colored Jeep Grand Cherokee with California license plates.
Shopkeeper Gurpreet Singh revealed FOX5 the security video of the moments before and after break-in.
" She was available in and took food," Singh said. "Hot food, sodas, chips, basic things like that."
Singh stated 2 staff members tried to stop the suspect from removing in a dark colored Jeep Grand Cherokee but were not successful. Minutes later on, the Good Samaritan actioned in.
" He gets in front of her and she runs him over," Singh said.
Police stated the suspect drove away.
Authorities urged anyone with additional details on this event to call the North Las Vegas Police Department at 702-633-9111.
Stay with FOX5 for ongoing updates on this story.
Copyright 2017 KVVU ( KVVU Broadcasting Corporation). All rights reserved.