Lance Kaanoi Junior( Source: NHP ).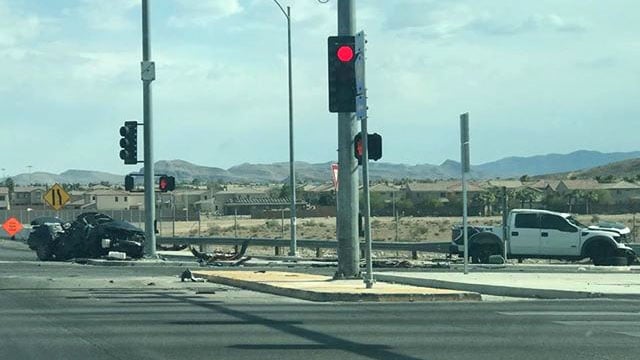 One person was killed and another was hurt in a hit-and-run crash on July 5, 2017. (Jerome N Jessie Keller).
LAS VEGAS (FOX5) -.
Nevada Highway Patrol stated a 29-year-old man has been charged in connection with a fatal hit-and-run crash on Wednesday afternoon.
Troopers detained Lance Kaanoi Jr. for hit-and-run leading to death, task to provide details and render help, reckless driving with death, and failure to obey a traffic signal. The crash took place just after 3 p.m. near Interstate 215 and Sunset Roadway.
Inning accordance with Cannon fodder Jason Buratczuk, a white Ford Raptor pickup truck, owned by Kaanoi, was taking a trip southbound on the 215 and Sundown Road off-ramp while a silver Toyota Camry was crossing the intersection westbound on Sundown Roadway on a green light. Witnesses told troopers that the Ford ran a traffic signal, got in the intersection and struck the guest side of the Toyota. After the impact, the Ford rolled over and strike a concrete average. The Toyota also hit a concrete average and overturned.
The chauffeur of the Toyota, identified as 22-year-old Savannah Aguilar, of Las Vegas, was transported to a local health center, Buratczuk stated. She later on succumbed to her injuries. She was the only individual traveling in the Toyota.
Buratczuk said Kaanoi left the scene of the crash. Troopers later on found him in the parking lot of Southern Hills Health center, where he was dealt with for non-life threatening injuries.
The right lane was closed to traffic throughout the investigation, NHP said.
Stay with FOX5 and FOX5Vegas.com for advancements.
Copyright 2017 KVVU (KVVU Broadcasting Corporation). All rights booked.