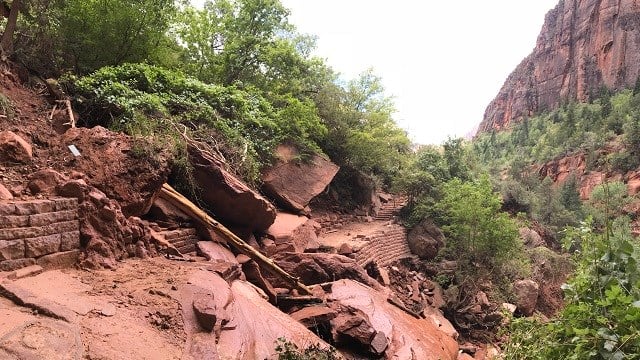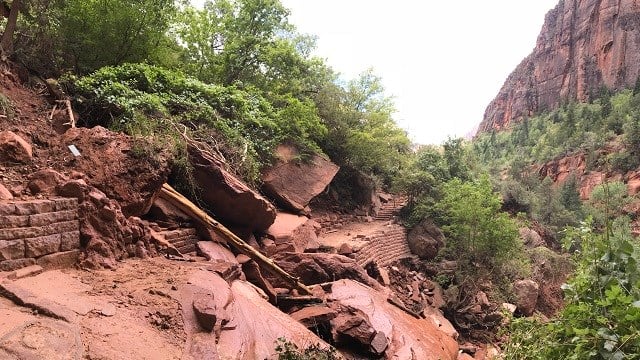 (Courtesy).
ZION NATIONAL FOREST, UT( FOX5) -. Several popular trails were closed in Zion National Park after storms in the area damages treking routes last week.
The routes will remain closed till crew and engineers can repair and re-route them, inning accordance with the release. It was not known for how long repairs will take.
The closed trails, identified to be risky, include:
Angels LandingKayentaUpper Emerald PoolsWest Rim from the Grotto Trailhead to Cabin Springand the back of Lower Emerald Pools Trail
Officials stated the damage was substantial in three areas: Refrigerator Canyon on the West Rim Trail, Kayenta Path and the back of Lower Emerald Pools Trail. Fridge Canyon is an area visitors should go through on their method to or from Angels Landing.
In Fridge Canyon, an area of retaining wall stopped working, triggering an 18 foot space in the trail that is over 5 feet deep. As a result, the West Rim Trail in between Cabin Spring (near wilderness campsite # 1) and the Grotto Trailhead in Zion Canyon is closed. This consists of Zion's popular Angel's Landing Trail. Visitors are encouraged to use Observation Point Trail or Covert Canyon Trail as options. The West Rim camping sites are open and accessible from the Lava Point Trailhead.
On Lower Emerald Pools Path, a 20 foot by 10 foot stone that was supporting part of the trail fell, leaving a deep space in the path. 2 big keeping walls underlying and supporting the trail likewise failed. The Lower Emerald Pools waterfall is still visible from the Lower Emerald Pools Trail, however visitors can not stroll behind the waterfall. Riverside Walk or the Pa' rus Path are suggested as options.
On the Kayenta Trail, numerous large stones fell and totally crushed roughly 50 feet of trail, rendering it unpassable at this time. Upper Emerald Pools Path is likewise closed due to the fact that there is no other way to access the path without treking either Lower Emerald Pools Path or the Kayenta Path which are harmed and closed. Watchman Path is recommended as an option for Upper Emerald Pools Trail and Kayenta Trail.
" While we are examining possible temporary re-routes to open tracks, cliffs and high surface limitation those opportunities," stated Superintendent Jeff Bradybaugh. "Comprehensive repair will be required prior to some routes can be opened. Offered the engineering and comprehensive repairs needed, it is too soon to estimate when each closed path might once again be open to visitor use."
Stay with FOX5 for updates.
Copyright 2018 KVVU (KVVU Broadcasting Corporation). All rights booked.