Kenneth Payne, left, and Raul Cruz, right, face multiple charges for their participation in a minimum of eight retailer break-ins( LVMPD/ FOX5).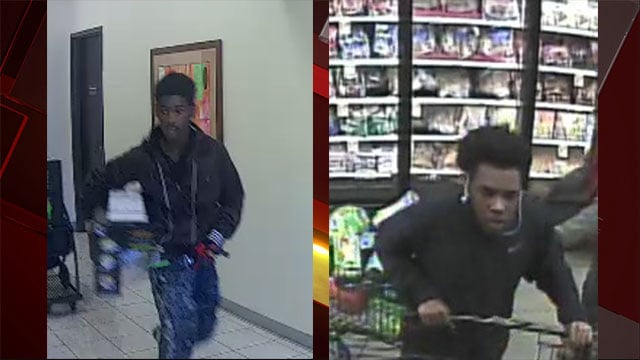 Monitoring stills reveal 2 suspects running away with merchandise( LVMPD/ FOX5).< img src=" http://kvvu.images.worldnow.com/images/15567142_G.jpg" alt =" Monitoring stills show 2 suspects running away with merchandise (LVMPD/ FOX5).
" title=" Surveillance stills show 2 suspects
leaving with product (LVMPD/ FOX5)." border=" 0″ width =" 180″/ > Security stills reveal two suspects running away with merchandise( LVMPD/ FOX5). LAS VEGAS( FOX5)- Las Vegas Metro cops arrested two suspects desired for their declared involvement in a retail theft ring that targeted at least eight different services.
Raul Cruz, 26, and Kenneth Payne, 30, were taken into custody on Dec. 3 and face several charges including burglary with a fatal weapon, break-in and conspiracy to devote robbery in connection with eight different events, according to an LVMPD release. The retail store robberies started in October 2017 in Las Vegas and North Las Vegas.
Officers were initially dispatched to reports of a burglary around 8 p.m. in the 8600 block of West Charleston Boulevard, a release stated. Employees informed cops that a group of men got in the store who matched the description of the suspects displayed in local newspaper article regarding current robberies.
The suspects were filling product into shopping carts as workers flagged down arriving officers. An employee confronted the suspects as they headed to the back of the store to find an exit.
Cruz threatened the staff member with a baton as the group of suspects left the shop through a rear door. An officer arrived at the back of the shop as the suspects left and ran away on foot.
Cruz was nabbed in a close-by community. Payne, the getaway driver, stayed at the scene where he was jailed.
Authorities stated four additional break-in suspects remain unidentified. Cops ask that anyone with details on the occasions ought to call the LVMPD Crimes Bureau at 702-828-3483.
Copyright 2017 KVVU ( KVVU Broadcasting Corporation). All rights booked.