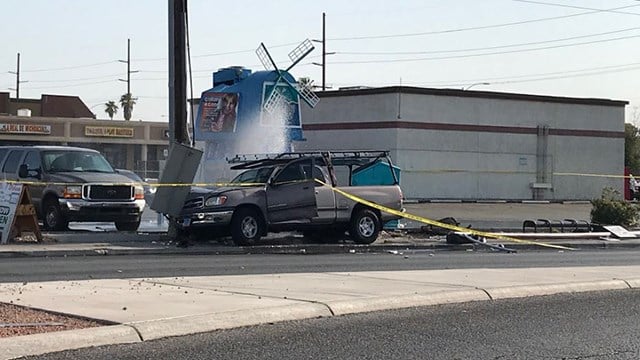 < img alt=" A pedestrian was killed in a fatal car crash in east Las Vegas on July 29, 2018. (Chernéy Amhara/FOX5)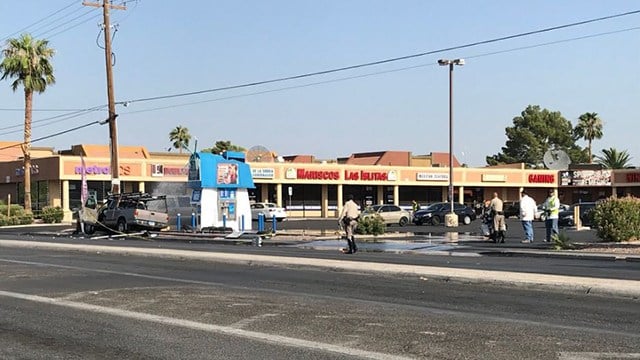 " title=" A pedestrian was
killed in a deadly auto accident in east Las Vegas on July 29, 2018.( Chernéy Amhara/FOX5)" border= "0" src=" http://kvvu.images.worldnow.com/images/17299934_G.jpg?auto=webp&disable=upscale&width=800&lastEditedDate=20180729113457″ width =" 180″/ > A pedestrian was eliminated in a fatal auto accident in east Las Vegas on July 29, 2018.
( Chernéy Amhara/FOX5)
( Chernéy Amhara/FOX5). LAS VEGAS( FOX5)-. Las Vegas Metropolitan Authorities responded to a single car mishap in east Las Vegas on Sunday morning. The chauffeur of a 2002 Toyota Tundra crashed into a bus stop, striking a pedestrian near East Washington Opportunity and North Pecos Roadway at about 7:13 a.m., according to cops. The motorist of the truck also struck a light pole
. Witnesses informed cops the driver was heading south on Pecos Road and made a wide ideal turn onto Washington Opportunity. After finishing the turn, the chauffeur crossed additional lanes without stopping and ultimately drove on the walkway.
The front of the Toyota hit a light pole before hitting with the pedestrian, who was sitting on a bus stop bench, cops said.
The pedestrian was a 43-year-old male, City Authorities said. He was taken to UMC Injury with severe injuries, though the severity of his injuries aggravated and he was noticable dead by hospital staff.
Police stated the driver was impaired and sustained "moderate" injuries due to the accident. Westbound traffic on Washington Opportunity west of Pecos was closed to traffic for the majority of the early morning.
Metro's Crash Examination Section was on scene to investigate the mishap.
Stay with FOX5 for more updates.
Copyright 2018 KVVU( KVVU Broadcasting Corporation). All rights reserved.